1. LaQuon Treadwell, WR, Mississippi / Josh Doctson, WR, Texas Christian / Corey Coleman, WR, Baylor - All these guys are studs and the biggest hole in our lineup is the lack of a true number 1 wide receiver.  Whichever of these 3 is there or at the top of the Vikings draft board should get selected at 23, in fact, I would not be opposed to trading up to acquire my #1, LaQuon Treadwell, who I believe has incredible potential.
2. Su'a Cravens, Defensive Hybrid (OLB/S), Southern California - Su'a Cravens is an athletic specimen who can shift between Outside Linebacker and both safety positions.  Cravens could split time with Emmanuel Lamur at the weak-side linebacker position and also spell Michael Griffin in some sets at Strong Safety.  With the success of other Defensive Hybrids like Deone Bucannon in Arizona and Mark Barron in Los Angeles, Cravens would make a welcome addition to this defense.
3. Shawn Oakman, DE, Baylor - Shawn Oakman is the definition of scary standing at 6'8" and having great speed for the position.  His 2015 season was underwhelming, but look at 2015 3rd round pick Danielle Hunter.  If anyone can turn an athletic freak into a scary pass rusher, it's Mike Zimmer.  Oakman may be a few years away from truly being a force at the position, but in Zimmer's philosphy, you can never have too many pass rushers.
4. Graham Glasgow, OG/C, Michigan - Glasgow has size, almost too much of it, but would add even more depth to an offensive line that acquired Alex Boone and may be acquiring Andre Smith soon.  I project with Alex Boone and Tony Sparano mentoring him, Glasgow would turn his size into a force up front and eventually be able to start for the team.
5. DeAndre Washington, RB, Texas Tech - All I'm saying is watch the film.  DeAndre Washington runs with incredible speed and agility along with being able to power through defenders.  He is able to get out and catch the football and is extremely underrated as a pass protector.  If the Vikings braintrust can be like me and overlook his stature, DeAndre Washington would be a great addition to this team and could be a factor as our possible RB of the future once Adrian retires. 6. Henry Krieger Coble, TE, Iowa - Krieger Coble, quite possibly the biggest combine snub, is a very dependable TE who put together a solid career at the University of Iowa.  With no 3rd TE on the roster, Krieger Coble would slide in nicely and become a solid all-around TE for this team.
7a. Drew Kaser, P, Texas A&M - Kaser had a tremendous career at Texas A&M and I don't see his pro career being any different.  Kaser has a nice leg and shows the ability to consistently pin opponents inside the 20.  His coffin corner punting does need some work, but at this point he is still miles ahead of Jeff Locke and would win easily in a training camp battle.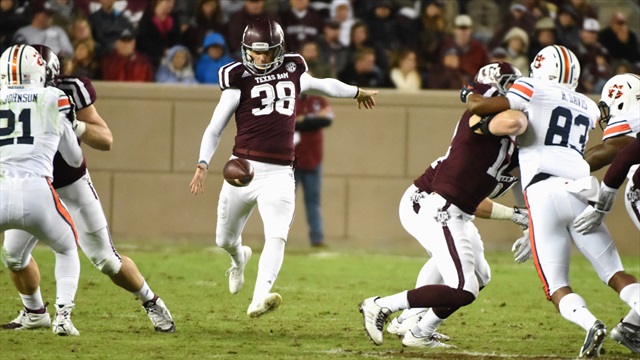 7b. Vincent Valentine, DT, Nebraska - Valentine is a big defensive tackle that could add to the Vikings depth at an already solid defensive line.  At this point in the draft, the Vikings would not have many weaknesses and this pick would be one that would just bolster a unit.  The Vikings saw the result with no other run plugger when Linval Joseph missed games, Valentine would be able to adequately fill that void should those circumstances arise again.